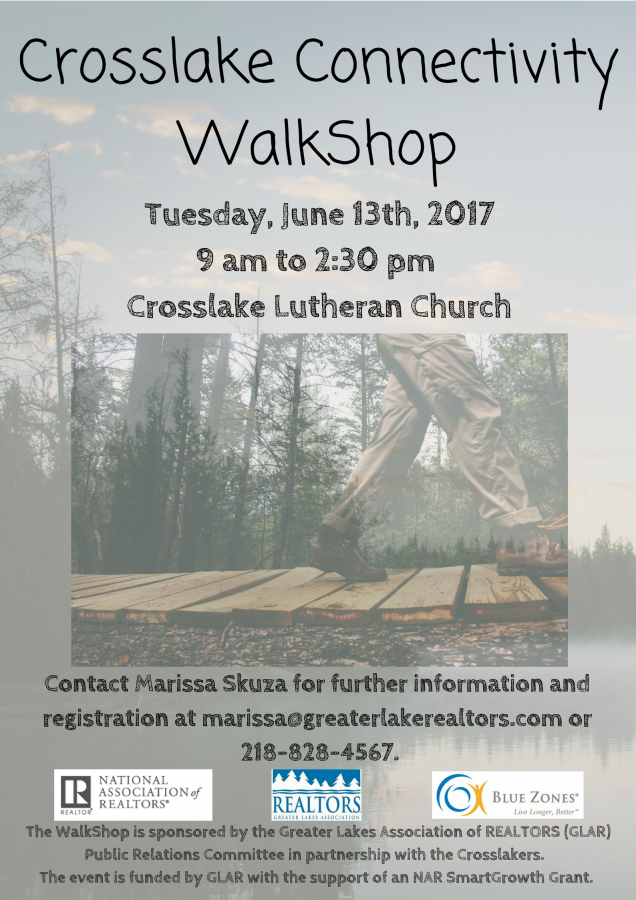 Help Make Crosslake a Better Place to Walk!
Please Join our Walkability Workshop and Walk Audit led by Blue Zones, LLC consultants, Dan Burden and Samantha Thomas.
A walkable community is a healthy, thriving place in which people of all ages and abilities can get where they need and want to go on a daily basis.
Location Details: Crosslake Lutheran Church – Fellowship Hall – 35960 County Road 66 Crosslake, MN 56442
The purpose of the workshop is to make Crosslake a more walkable community through healthier streets.
Please wear comfortable clothes, and be prepared for changeable weather (umbrella, sunglasses, etc.). After the walk audit we will serve lunch and discuss our collective findings. We hope you will join us, for part or all of the day, and work with the other participants to make Crosslake a more walkable community.
For additional information about the workshop or to volunteer or register, please contact Marissa Skuza at 218-828-4567 or marissa@greaterlakesrealtors.com.